Anti Bullying Training Centre Disclaimer and History
The Anti Bullying Training Centre is a part of Actionwork. Actionwork hereby grants visitors to this website access to these pages conditional upon your agreement to accept the application of the laws of England to govern matters between us in relation to this website and you agree to indemnify us and not hold us liable for the result foreseeable of any actions you may take based on the information contained herein. Whilst every endeavour has been taken to verify the information and links contained in this website, we cannot take any responsibility for what you may find, read or act upon.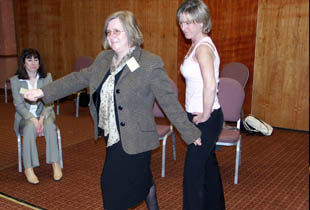 The Anti Bullying Training Centre was formed after repeated requests to offer high quality anti-bullying training to adults both in the private and public sector. The aim of our training packages are to help provide schools with teachers and staff who feel confident in dealing with bullying and workplaces where staff and managers are able to effectively deal with bullying at work. In addition we want to help engender an ethos of positive relationships in all places of work, leading to happier and more productive workforces.
If you did not find the training package you were after then please contact us with your requirements and we will create a bespoke programme for you.
1. We committed to protecting the privacy of visitors to this site, and have security measures in place to prevent any unauthorised access to personal data we hold.
2. We reserve the right to update this privacy policy from time to time without prior notice to you. If we make any changes to this policy we will post changes on this page.
3. When asking us for information we will need to know your name, phone number and email address.
4. By submitting personal information to us, you consent to the terms of this privacy policy and our use of your personal information.
5. We reserve the right to record the personal information you supply to us both manually and/or on a computer database, in compliance with the Data Protection Act 1998 and the General Data Protection Regulation (GDPR) 2018.
6. We may display comments or feedback you have made about our projects on the website, press releases or other promotions. We will not include your personal contact information without gaining your consent.
7. Personal information will only be used for the advancement/promotion of our work and will not be passed on to any third parties without your prior consent.
8. This website contains links to third party websites and it is possible that third party websites may also link to the Site. We do not accept responsibility for the privacy policies practiced by third party websites and we accept no liability if, by using a link from the Site to a third party website you reveal information (whether intentionally or not) about yourself to that third party site. We accept no liability for any use made by that third party website of any information which you provide to it, whether you provide such information intentionally or not.
9. If you find a comment on this site that is attributed to you that feel was not made, please contact us with details.
10. Photographs and films on this site are copyright (C) Actionwork®. If there is a photograph of you on this site that you do not like or did not give permission to be used, please contact us with the details. We will investigate and remove if necessary.
11. We do not store credit card details nor do we share customer details with any third parties.
12. If you contact us by phone, email or other method we will add you to our contact database.
13. If you are on one of our contact lists you have the right to be removed at any time. Please contact us to be removed.
14. If you request contact information from us such as a school or teacher's details to ask for a reference or feedback for example we will first need to gain their consent before sending it to you.
15. We will hold your contact data for 10-years unless you have asked us to remove it.
16. You have the legal right to complain to the ICO if you think there is a problem with how we handle your data.
17. We will not charge you to be removed from our data base.
18. This policy will be updated annually.
Summary
If you contact us via email, phone, post, social media, a form, in person or other method we will keep your contact details in order to respond to your queries and to send you information and offeres regarding our products and services. You have the right to be removed from the database by contacting us and asking to be removed. We will not and do not share your contact details with anyone or any organisation without first getting your consent. In addition you have the right to 'opt in' or 'opt out' from our newsletters or bulk mail shots.
The ultimate anti-bullying training course

21-day training programme in the tropical paradise of Malaysia. It's more than just a training programme, it's an adventure. Theatre of the Oppressed and Social Theatre in the Jungle.
It's not just an adventure, it is a practical, educational and creative course that will prepare and leave you with the tools to deal with bullying in your workplace, at school and in your everyday life. This training programme could be a life-changing experience. In addition you will get the chance to stay overnight in the jungle with a group of indigenous peoples, the Temiars, known as the most peaceful people in the world.